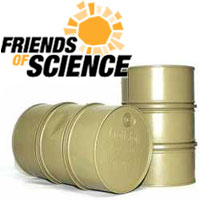 There is no doubt that science would be made easier by throwing out the concept of 'peer review.' I am sure many scientists curse from time to time the rigorous questioning of their peers, the need to re-visit completed work and the possibility that years of research may be for naught based on the scrutiny of their colleagues.
That being said, the peer-review process of science plays an extremely important role in ensuring that conclusions drawn by research are in fact sound before being touted in the scientific community. Without peer review, science could easily fall into the category of opinion.

The Friends of Science, a Calgary-based cadre of climate skeptics who we have reported extensively on, delivered a statement today in the National Post via their appointed spokesperson, Albert F. Jacobs. This letter serves as a great example of the fantasy world the FOS promotes when it comes the concepts of science and peer-review.