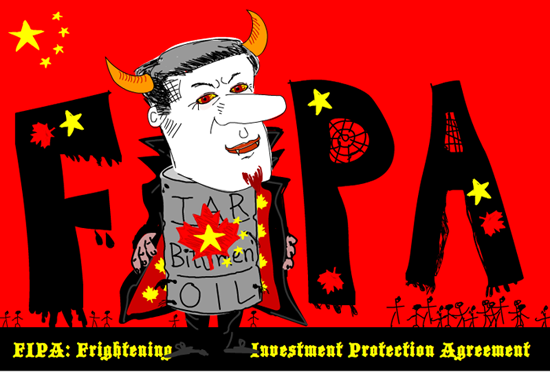 hat's the scariest thing happening just after Halloween? Is it the stomachaches our children will have from eating too many sweet treats? No, it's the Canada-China Foreign Investment Promotion and Protection Agreement (FIPA), which will automatically come into force on November 2nd, binding Canada for 31 years to come.
Shockingly, the most significant trade agreement since
NAFTA
is set to automatically go into effect – without a single debate or vote in Parliament.
Our political representatives have not even had the chance to say "Boo".
The deal was signed in
secret
 by the Harper Government on September 9th, and quietly tabled in the House of Commons on Sept.26th. No press release to the Canadian media. No briefing to our
MP
s to announce the details. Just a clock ticking off the 21 sitting days until
FIPA
comes into force on
Nov.2
.
But surely the Harper Government has protected Canada's interests? Unfortunately, no.